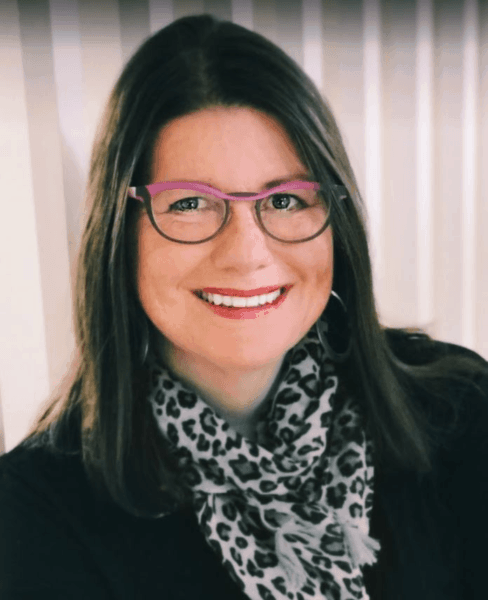 Meet Quill Digital Marketing's Founder & CEO
For Charlotte Koppin, standing still for too long without wanting to try something new is not an option. It's a trait that has guided her to become Founder and CEO of Quill Digital Marketing in Albuquerque, NM. Charlotte believes Quill Digital Marketing's reliable customer service and its Never Give Up attitude are what make her company special.
She's not afraid of self-expression. A self-proclaimed 'Jack of all trades' her lists of pastimes include playing guitar, piano, singing, painting, creating wire sculptures, and gardening. When it comes down to it, Charlotte's true passion is helping businesses become more efficient and technology savvy. Even with the array of artistic interests and tech-minded approach to business, one thing has remained consistent….her life goal. To be happy in life and have the means to support it.
Charlotte's professional background started as a graduate of New Mexico's CNM with a specialty in the Instrumentation and Controls Program (Robotics). Charlotte learned the basics of troubleshooting when working with electronics, hydraulics, and pneumatic systems. After working in this field, she missed working with customers and humans. Charlotte returned to being a Corporate Trainer for General Mills and Brinker International as a Restaurant trainer. Later, she became a Sales Representative for a landscape company and coffee supplier. Since her experience was highly dependent on building strong relationships with customers and staff, she applies those same skills and makes it the focus for Quill Digital Marketing.   
Quill Digital Marketing is a service company first and foremost. The Digital Marketing Team is heavy on the technical spectrum, but customer service is the heart of her company.
Let's take a look at the Q&A we had with her as she explained the different layers of Quill Digital Marketing and how she handles her role as a leader.
Q: What is your role at Quill Digital Marketing?
Charlotte: I am Co-Founder and CEO. I oversee the business as a whole and engage and work in the business when needed.
Q: Tell us a little bit about your business.
Charlotte: Quill Digital Marketing was a direct result of the private and public sector searching for Digital Marketing consulting backed by complete ongoing solutions. We saw businesses frustrated with many different vendors and consultants with different ideas for improvement but no solid resolution or action plan. We knew we wanted to consult our clients but also provide them with tools to improve their infrastructure and keep it running. We provide our clients with Website builds and management, Social Media, and Digital Ads (big or small), with expertise ranging from Coding to Design. I coach every Quill Digital Marketing employee to deliver our services as an honest, flexible, and innovative partner.
Q: What have been your biggest successes in this business?
Charlotte: I could talk about our Federal contracts or long-standing relationships with manufacturers, but staying flexible and changing with the times is what has made me successful. One of the hardest parts of surrounding Digital Marketing is staying current. Technology is always changing. The rules never stay the same for too long, a new virus, change in software, upgrades, and continually evolving algorithms are ongoing. The famous quote, "Nothing stays the same except for change," should have been made for the Digital marketing industry. I am truly honored to work with amazing employees and customers. That is my most significant success.
Q: Have you had failures?
Charlotte: Sure, but I like to think of these as lessons. I learned during the recession not to depend on just a few large contracts. Quill Digital Marketing now focuses on working with local businesses to manage and improve their Digital Marketing efforts.
Q: What are some of your productivity hacks or ways that you manage your time?
Charlotte: I love the convenience of cloud-based applications. All my essential web-based tools are always accessible. I use my favorite bar to organize, and this makes it easy to plow through work. Cloud-based applications give me the ability to move from computer to computer with all my favorite apps and software, no matter where I am.
Q: What is something important you think people starting in small businesses should know about small business ownership?
Charlotte: Find your passion, and don't give up! It is your business; make sure what's important to you is also essential to your company.
Q: Grab your smartphone, what's the last app you opened, and what did you do with it?
Charlotte: Tiny Scanner– A $4.00 app that allows you to take a picture and turns the image into a scanned document. You can send the scan in an email or other messengers right from the app. I am always on the go, and this is a perfect solution for sending relevant documents to our accounting department or tech group.
My Favorite Chrome extension is Grammarly. It fixes all my misspellings and grammar, no matter if I am using it on its own or writing content for websites or social media.
At Quill Digital Marketing, we are Websites and digital marketing experts, so you don't have to be. We make sure that your business Website or Digital Marketing is up to date, monitored, maintained, and cutting edge, without a second thought from you. We make your business work better. And it all starts with a conversation.
Contact us today for a free consultation.